September 23, 2020 | Weekly News | Debbie Bruce
20200923 Weekly News Splash
Hi //FirstName//,
Starting this week, we are offering Tastings To Go for curbside pickup. With the holidays fast approaching, there are endless possibilities! Host your own COVID-safe wine tasting with your Bubble...Give a Thanksgiving gift to your employees along with a gift certificate to Bent Oak for them to buy their favorite wine from the tasting...Give as a hostess gift, etc. Start planning your event today and order your Tasting To Go under the Gifts & Wine Packages on our website.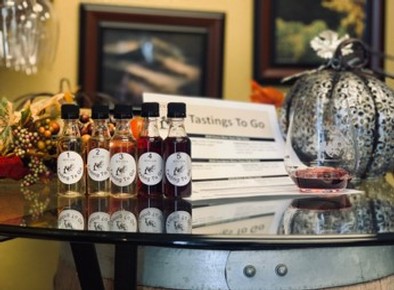 As a reminder the tasting room is open by reservation only at 50% occupancy - we cannot accept walk-ups - and curbside pickup continues. We are operating under the TABC "51% Rule" which classifies us as a restaurant requiring non-wine purchases to be higher than the cost of the glass or bottle of wine. While the Governor authorized restaurants to increase to 75% occupancy, we decided to stay at 50% to ensure your safety and ours, instead we are introducing new expanded hours starting on October 1st and 1st Friday Wine-downs!!!
New Expanded Hours
Thursday, Friday, Saturdays: 2pm to 7pm
Sundays: 1pm to 5pm
1st Friday Wine Down: 1st Friday of the Month (October 2nd): 2pm to 8:30pm
Wine Club Release in October
Hey club members, all of you should have received an email identifying the wines for your club and letting you know all the important dates associated with the October Release. If you did not get an email please let us know. Note: processing will begin on October 19th and pick up from 18B is as follows:
October 24th

6-Bottle Club & Top Dog 11:00 to 1:00
2-Bottle Club (Last Names begins with A-M) 1:00 to 5:00

October 25th

6-Bottle Club & Top Dog 11:00 to 1:00
2-Bottle Club (Last Names begins with N-Z) 1:00 to 5:00

October 31st

3-Bottle Club 11:00 to 5:00
Any club member who has not picked up yet can come this date

November 1st

4-Bottle Club 11:00 to 5:00
Any club member who has not picked up yet can come this date
---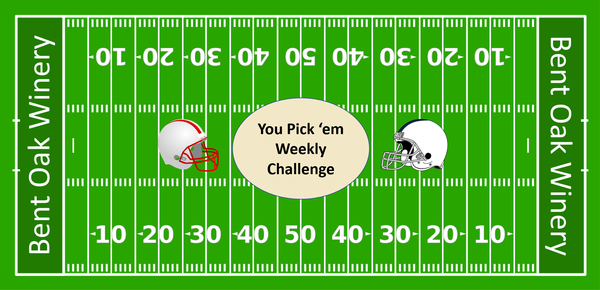 Are you ready for some football?
We had 49 people participate in week #2 which ended in a five-person tie and required use of the tiebreaker score to determine the winner. Congratulations to Dan and Joyce Fitzgerald for getting 14 correct and having the closest total score to the tiebreaker game total score for the win. They won a bottle of Dolcetto.
Join us for Week 3 of the NFL You Pick 'Em game. You select the winners of each game and enter the total score of the Monday Night Football game. A bottle of Sauvignon Blanc to this weekend's winner! Below is the link to the pick 'em entry form. Get your entry in before the Thursday night game and good luck! (Note: You can enter after Thursday night, but will have to take that game as a loss).
By the way if you have never played, anyone can do it. If you do not know much about football, just pick your favorite cities, colors, or mascot. Or all home or all away (this wins at least once a year per my historical tests). If picking all home or away, the 2nd team listed is the home team such as Cincinnati Bengals (Away) vs Cleveland Browns (Home). Join in the fun for a chance to win a bottle of wine! The more the merrier!
NFL Week #3 You Pick 'Em Entry Form
---
Specials for the Week
WINE with FOOD or MERCHANDISE
$6 Loaded Baked Potato
$10 Loaded Baked Potato & Wine Pairing
$12 Member/$15 Non-member Glass with Hummus Plate, Spirals, or Corkscrew
$35 Texas Bottle with Charcuterie Plate or Tumbler
$50 California Bottle with Bent-O-Box or Aerating Pourer (not Chirpy)
WINE TO GO or ALA CARTE in the Tasting Room
Lots of changes this week for the bottle specials and tasting menu. Summer is technically over but we are still featuring our whites to help you cool off! See below or check our specials on the WEBSITE or BLOG in case you delete this email. The website link will take you directly to the Gifts and Wine Packages page. Don't forget you can purchase gift certificates which can be used at any time in the future.
BOTTLES:
$14 – 2018 Chenin Blanc (retail $24)
$17 – 2018 Sauvignon Blanc (retail $28)
$14 – 2018 Blanc du Bois (retail $24)
$16 – 2018 Dolcetto (retail $26)
$30 – 2017 Zin Reserve (Retail $50)
PACKAGES or CASES:
$29 Texas Do-Si-Do - 2018's Blanc du Bois & Barbara (retail $50)
$90 Reserve Trio - 2017 Cab Reserve & Zin Reserve and 2018 Pinot Noir Reserve (retail $154)
$300 Case of 2017 Zin Reserve (retail $600)
$399 Case of 2017 Cab Reserve (retail $624)
$20 Tasting to Go with Glass
$15 Tasting to Go without Glass
Case discounts for wines not on special (any 12 bottles or more):
Members get an extra 5% above their club discount
Non Members get 10% off
Don't forget about the free shipping for members and $5 shipping for non-members each with no minimum order requirements.
---
Virtual Happy Hour - Friday 5 to 6 PM Central
Get a Tasting To Go curbside and join John for a virtual tasting.
---
We hope you find this email informative and we look forward to seeing you soon!
Cheers,
The Bent Oak Winery Team
Comments
Commenting has been turned off.