Our Story
There are few times in your life where you are compelled to leap…Bent Oak is one of those. After contemplating building a winery for many years, we did just that. We shook hands on a deal to bring in awesome grapes, grabbed a glass of wine at a favorite place and while looking out over an idyllic vineyard, standing stalwart in the middle we see this majestic weathered oak. That oak in many ways resembles us and ties us together; our roots in Texas, Florida and California and our solid commitment to bring to our customers accessible, balanced, high quality wines from the regions that represent each varietal the best
Our passion
At Bent Oak, our passion is bringing out the unique qualities from each region we choose as the origin for our wines. From east Texas range, Texas High Plains, California's Russian River Valley, to the rich volcanic soil of Sonoma Mountain and even our own back yard vineyard, our grapes are hand-picked, carefully sorted, and treated with the utmost care to preserve the essence of terroir from which the grapes originated. From dirt to bottle, our wines speak for themselves, showing distinct character, balance and taste. Our existential mission is to bring forth to our customers wines of distinction from regions where they are best formed. While we focus on wine styles consistent with our customer demand, we are unabashed about stepping out of the box to bring forward varietals that are worthy of consideration.
John Catalano - Winemaker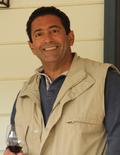 John "FatCat" Catalano leads our winemaking team. His 15 years of experience include producing distinctive wines from both Texas and California as well as vineyard establishment and management. John is enrolled in both Viticulture and Enology programs at Texas Tech University. John's approach is to dig deep into understanding the soil, climate, and the varietal fit for what Bent Oak wants to produce for our customers. This means getting out into the vineyards, something that John loves to do. After all, good wines start from good grapes and to understand that you need to practice vineyard enology; wine making up front!

John first dove into the fermentation arts by brewing beer…there is an old adage in making quality wines: "It takes a lot of beer to make good wine!" John used his knowledge of brewing and fermentation science to also learn to make wine and that soon expanded into growing grapes. He has been growing different grape varietals and producing wines for over 15 years using his own grapes as well as other grapes brought in from Texas and California. While California's comparatively benign climate yields a certain predictability harvest to harvest, Texas can show unusual extremes that bedevil even the most skilled winemaker…a challenge that John has taken to heart.
Audrey Catalano - Hospitality

Audrey "Chard Girl" Catalano leads our hospitality and wine quality assurance team and an avid wine lover. Audrey is known for her talents in decorating and one look around our reception area and winery will readily demonstrate that. Audrey is also enrolled in several Enology and Wine Marketing classes through Texas Tech.
Marilee Catalano - Operations Support

Marilee "MerdleTurtle" Catalano provides operational support managing ecommerce, our web presence, mail lists, newsletters, and the Wine Club. She brings 30 years of IT development, system integration, and program management to bear on a pure labor of love.
Debbie Bruce - Back Office Operations

Debbie "The Map" aka "Wildcat" Bruce provides back office support managing the financial and compliance aspects of the winery as well as automation. In addition to her 30+ years of Program/Project Management, Enterprise Project Management Office, Information Technology, and Accounting/Financial Management experience, Debbie is currently enrolled in the Sonoma State University Wine Business Finance & Accounting Certificate Program to help us navigate the intricacies of accounting in the wine industry.

Not only is she passionate about wine, she is equally passionate about finding automated ways to make our jobs easier and is planning to innovate and automate Bent Oak in the coming months and years. Her late night development ideas are typically inspired by a fine glass of wine.